Home | Profile | Vehicle | Household items | What else ? | Contact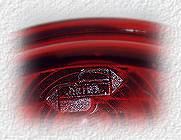 The pioneering CRIMA's products have been a real success on the Algerian market and have never been matched when imitated. Nonetheless, please make sure to check the logo (1) or (2), on the CRIMA's products when buying them. As a matter of fact, we have found totally counterfeited products (even with the logo).
| | | |
| --- | --- | --- |
| | | |
| (1) | | (2) |
Though, you can still make the difference by observing the perfect finishing of surfaces and angles, the material's quality and the product's resistance (The different parts are either molded in a single block or welded with ultra-sounds, but never stuck).
All CRIMA's products are patented designs. If you ever discover
any form of counterfeiting, please let us know about it by
using our customers' form. This will protect
the high quality level of CRIMA's products.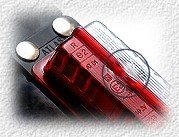 To take the sidelight as an example, you will be able to notice counterfeiting easily, by noticing the following details :
bulb heat makes the plastic cover melt
the plastic cover can be withdrawn manually
electrodes used are not out of special steel
riveting is made by simple snap fasteners
the different parts of the plastic cover are stuck (and not welded)